Whether you are a professional designing websites or logos, having a stash of design, inspiration-websites goes a long way in adding to the much-needed jolt of creativity to design afresh.
Working continuously on requisitions requiring subtle changes can lead to the infamous "designer`s block." Let`s be honest; we`ve all been there! And although it may be temporary, a great deal of time is lost before the knack to design kicks-in!
So, rather than wasting precious time, even the professionals working at the best website design firms and logo design agencies attend to their bank of inspiration (Websites) which not only offer great design ideas, but also give the much-needed rush of creativity that allows working on the client`s project with a unique perspective.
Looking for your own stash of inspiration to overcome the "Designer`s Block?" Here`s a list of the best 16 websites that offer tons of design inspirations and give a plethora of fresh ideas that can help get your head back into the game!
With no further delays, let`s get you inspired to the hilt!
Best Website Gallery
This highly-curated website offers a ton of design inspirations for website designers, to say the least.
With a reliable tagging system and over 2,000 different topnotch website design inspirations accessible, Best Website Gallery is the first stop many providers of professional website design services make when searching for brilliantly novel ideas.
Why BWG?
Because it is the "Best" website gallery. No? Okay…
Apart from its name, a number of professional website designers opt BWG for:
Portfolios
Having a personal stash of designs to get inspired from is every website designer`s safe haven, and BWG provides you just that!
With hundreds of innovative and fresh portfolios, BWG allows you to go through each one, and garner the core elements together, to come up with something entirely intuitive.
Agency Websites
Top web design agencies` offerings are also showcased on BWG. What else can one ask for?
Since the best creatives are attracted towards agencies, the works of professionals who charge the highest rates gets showcased, and that too for free. Reviewing these works doesn't only provide inspiration, but undoubtedly appears to be a great source of learning, for both novice and veteran web designers.
Robust Tagging System
BWG sports a robust tagging mechanism. Along with the functional filtration system, the prompt response-times by BWG allows the web designers to get their hands on designs they yearn for, that too in the most minimal of times.
Another POINT to BWG!
CSS Nectar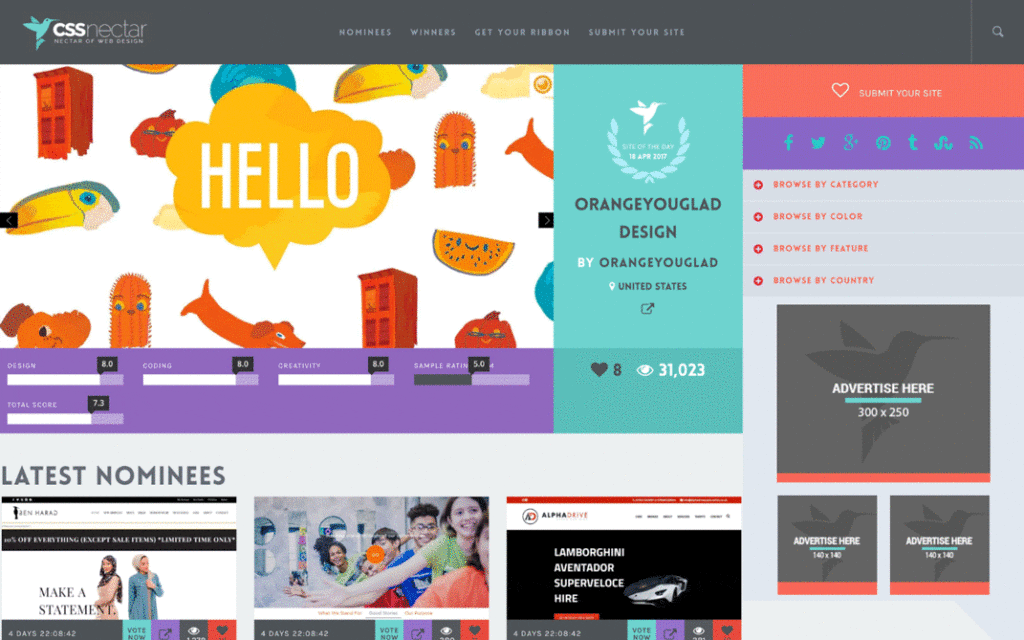 If you are someone who has a knack for only professional work, CSS Nectar will prove to be the right choice for your dose of inspiration.
Since the website follows a stringent protocol of fee submissions, jury reviews, and a voting, prior to letting any website design make it to the page, only professional website designers tend to join this platform to showcase their awe-inspiring works.
Why CSS Nectar?
Cream Content
The three-stage process allows for curation like no other. With only the best of the best being allowed to display their work, CSS nectar brings only the cream of the crop to inspire its users.
Brilliant Filter Options
Like BWG, CSS Nectar also allows remarkable filtering choices for country, color tags, and other essentials, making it excessively easy to get inspiration from any selected category.
Awwwards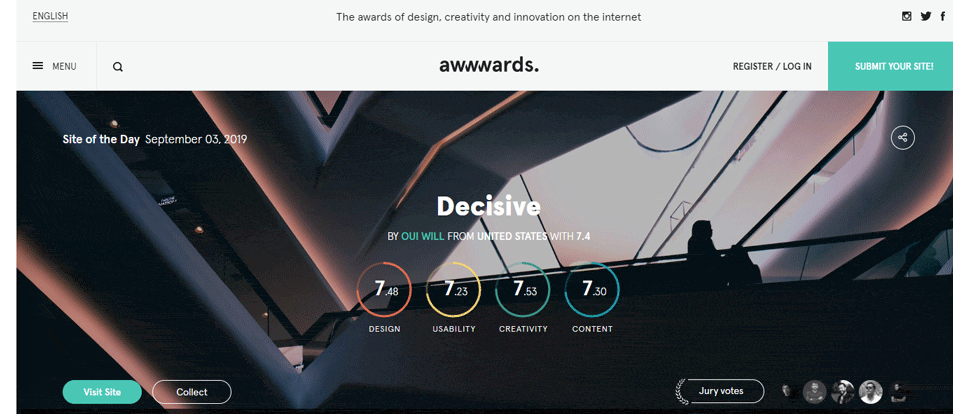 The kingpin of websites offering design inspirations, Awwwards is imbued with the ethos of inducting only the best of the very best providers of website design services into its jury.
With a well-appointed jury, perceptively reviewing all the entries prior to scoring, Awwwards occupies the stature of acknowledging only the best website designs available over the internet.
Why Awwwards?
Apt Scoring
While many inspiration sites score on the website`s design on its "attractiveness," Awwwards evaluates based on four dimensions: usability, content, design, and creativity.
The professional jury transparently scores each aspect based on the website`s offerings. The total calculated score is then demonstrated, allowing the viewers to handpick the sites that score high in the area in which they are looking for inspiration.
Uptown Logo Design
Though the website entails "Logo Design" in its name, Uptown is a professional agency providing all sorts of web solutions. Since the website operates internationally, it is a great place to get acquainted with professional branding work done for businesses all over the world.
It is in its portfolio-section that Uptown displays all the remarkable web-designs it has done for a wide customer base. Since the agency has housed notable designers internationally and is reputed for having considerable experience in web-designing, its portfolio section proves to be a sanctuary for providing a plethora of web designing inspirations that recuperate the much-needed creativity to get back into the designing game.
Why Uptown Logo Design?
Industry-Based Selection
While a significant number of inspirational websites offer search mechanisms to filter out the unwanted designs, only a handful of sites offer a vast assortment of web designs for specific industries. Uptown is one such website, and despite being a provider of web design services, the ease-of-use and the functionality to web designers make Uptown a key-entry amongst our top 8 web designing websites.
On-spot Inspiration
A grave predicament that designers face when searching for inspirational work is the inability to find the strategy that matches their/clients` requirements. Now since Uptown services global clientele, its portfolio is stashed with web-designs for businesses emanating from almost every part of the world. Not sure what your client from Africa wants? Check out Uptown`s web-design portfolio and get on-spot inspiration regarding your client`s requisition.
Template Monster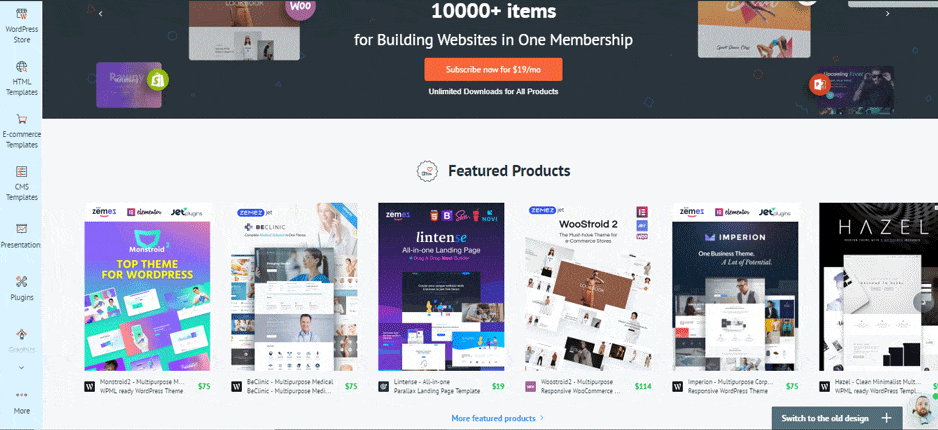 Another peculiar entry in the list; and though it might surprise many, template monster lives up to its name, especially when it comes to offering awe-inspiring web-design inspiration. The website is involved in the business of selling pre-built web designs, and since you do not need to purchase any design to view its details, you can stash as many inspirational layouts as you want, in your system, to get the much-required jolt of creativity.
Why Template Monster?
Massive Collection
The maxim – Quality over quantity – Fails to find its way at template monster. Although the website is laden with quality content, its quantity remains head and shoulders above the rest of its features. In the mood to skim as much content possible within minimal time? You know where to look!
Assorted Platforms
While every other design inspiration website offers the filtration/search feature to curate the selections available, monster template, along with its remarkable search feature, allows the designers to go through inspirational content for WordPress, HTML, E-Commerce, and numerous other platforms, separately.
SiteInspire
A fan favorite – SiteInspire – Makes it to the list of the best websites for inspiration purposes primarily due to its remarkable tagging system. While the myriad of web designs available on the website sure are worth getting inspiration from, the user-based curation SiteInspire offers to its visitors is simply unparalleled.
Why SiteInspire?
Curated Search Systems
Every designer at SiteInspire can filter out all the unwanted web designs by not only using the search feature, but also by using a combination of style, type, subject, and platform. The extensive selection mechanism makes it a personal favorite, as it efficaciously showcases the very content required for getting the much-needed inspiration.
Constant Entries
SiteInspire allows every designer to put their web designs on display via a simple sign-up. While this feature does bring in all sorts of works from every level of designer, it also brings in an ample amount of creative web designs to have your inspiration-needs covered for months.
Pinterest
Pinterest is the choice of artists, sportsmen, gamers, artisans, designers, and people from literally all walks of life that need inspiration in their respective fields. This singular website receives highly distributed content from agencies, individuals, business corporations, and several other channels, in all the domains; and likewise, web design is no exception.
A simple search of "Web Design Inspiration" on the search bar leads to a plethora of curated inspirational content that has been pinned down by thousands of users. Next time when you need the creative-kick web designing needs? Make sure to give Pinterest a go!
Why Pinterest?
Highly Distributed, Yet Curated Content
Pinterest boasts a large variety of users that love to showcase their works. On the other side, it has a vast active user-base that loves to "pin down" original and unique content. Result? Web designers get a large variety of distributed content in a curated form that suffices to jolt the rush of creativity.
User-Friendly Interface
While many may not consider interface of the web to be a vital feature when it comes to getting design inspiration, but if you are someone (like me) – Who wants to glean through every content in the swiftest manner possible – the interface makes the task at hand substantially easy.
Pinterest, in this regard, offers one of the most seamless interfaces on the web. And whenever highly distributed content is to be curated, it proves to be one of the leading go-to places by a myriad of designers for their dose of inspiration.
Pttrns
Although, Pttrns is a website focusing entirely on mobile app designs, yet it easily makes it to our top source of inspiration for a number of reasons. For starters, it showcases curated content from a myriad of developers. The distinctive content from a multitude of channels allows for better inspiration, and also proves to alter the monotonous course of flow designers adopt by going through the same web designs again and again.
Visit Pttrns yourself. You`ll be amazed as to how a website designed solely for mobile designs can give you the creative-spark required to design anew.
Why Pttrns?
Layout-Focused Approach
It goes without saying that a highly functional search bar is one of the top priorities that we look for in an inspirational website. And without a shadow of a doubt, Pttrns tops our list when it comes to searching curated content.
At its homepage, the website offers a plethora of layouts to choose form. The wide-ranging selection doesn't only provide the designer the opportunity to select precisely what he/she is looking for, but also offers the prospect of digging deep into the subset designs. This responsive and deeply-curated search feature of the website is undoubtedly the reason why Pttrns makes it amongst our list of inspiration content for website designing. And, once you get a knack of it, it will probably be included in your favorites as well.
Mobile-Web Layout
Unlike many design inspiration websites, Pttrns offers mobile web designs. Now where the conventional web designs offer somewhat similar experiences, mobile web designs tend to be more minimalistic, compact, and can provide the inventive touch that can significantly make your work distinguished among a sea of concordant web designs.
8 Of the Best Inspiration Sites for Logo Designing
99designs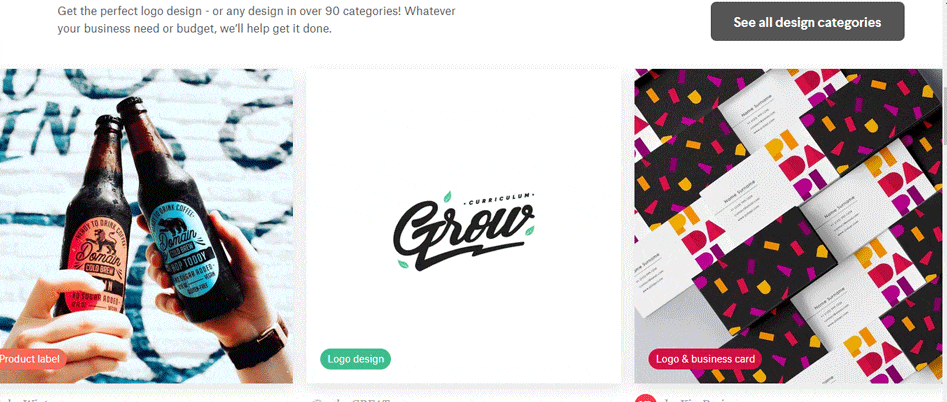 Although 99designs is a distinctive third-party platform that aligns thousands of freelancers that can be hired to do one`s bidding, what many do not know is that it is also a brilliant source of logo designing inspiration as well. Since the primal focus of the website is to incite competition as to garner more and more resources to its platform, the freelancers go out of their way to come up with distinctive logo designs and portfolios that offer a fresh outlook to the ones that are running low on creativity.
Why 99designs?
Huge Category Selection
It goes without saying that a swift interface, which allows maximum inspiration in minimal time, is our weak spot! And the category-selection that 99designs allows is simply impeccable – to say the least. From covering product labels to graphic illustrations, and from mascots to tattoos, the gamut of category-selection at 99designs comprises of all these designs and many others, to offer its users a one-stop website that suffices for all the logo designing inspirational needs.
Wide Assortment of Logo Designs
What good is an inspirational site for logo designing if it doesn't house a myriad of logo designs? Whatever the answer may be to this rhetorical question, it can never be "99designs."
While the website entails a mere 99 in its name, the number of designs available exceed 95 million logo designs. And to top it off, the site boasts a counter at its home page that claims the addition of a new logo design every 2 seconds. Well, it isn't bragging if you can back it up, right?
Canva
The lynchpin of DIY logos – Canva – isn't only a great place to begin your logo designing journey, but accounts for one of the best sources of logo design inspiration in all of the web. The website features a plethora of professional designers that apart from showcasing their work, also offer designing lessons. All in all, the site boasts enough inspirational content. and numerous other features. that make it the best companion to drive any designer towards his/her next inspirational work.
Why Canva?
On-Site Logo Creation
While almost every website mentioned here boasts thousands of original design inspirations, none offer the service of designing the logo on-spot. As a DIY platform, Canva offers every user hundreds of logo templates and pre-made backgrounds, designs, images, and the functionality of getting inspired from one tab, and designing the intuitive logo on the other. Now this is some serious DIYing, and a great time saving undertaking if you are not in the mood to design your logos from the scratch.
Design School
Another distinctive feature that sets Canva apart from its counterparts is its ever-fabulous design school. Where, on the one side, the website is laden with a plethora of logo designs for your inspiration, on the other, it sports a design school for all the designers yearning for freshness. Who says a good read doesn't incite inspiration? Go to the design school section and experience for yourself how the in-depth articles on the website stir up your knack for inventiveness.
Dribbble
Dribbble is accredited to be one of the leading platforms for connecting creatives and designers from all the six realms, if not seven. Having an established community that keeps on adding members every single day, Dribbble not only provides a great deal of logo designs to refuel your inspiration, but also puts at your disposal an actively dynamic community that is always more than ready to provide feedback and appraise your uploaded logos.
Why Dribbble?
Active Community
While the website houses thousands of awe-inspiring logo designs that are more than equipped to recuperate your creativity, its star-attraction is its active community, which keeps on getting better and better with each passing day. From providing constructive criticism to your logos to uploading informative blogs, and from conducting warm-up exercises to managing meetups between its members, Dribbble`s energetic community offers more than just design inspiration – It offers a family.
Professional Designers
Dribbble`s prolonged presence in the digital realm draws in professional logo designers from every corner of the world. Consequently, the platform showcases cream content without any subscription fee or any other complications. To top it off, many a designer are friendly enough to evaluate your content and provide a professional approach to the undertaking. What else can one ask for? Someone else who does your bidding? Well, Dribbble offers that as well.
Instagram
Although it may seem like another peculiar entry, but Instagram`s wide audience-base makes it the ideal-most platform for being used as your source of logo designing inspiration. Housing millions of individuals from all walks of life, who emanate from all sorts of places, Instagram redefines logo inspiration through its amalgamation of wide-ranging aesthetics, communities, and mindsets.
The renowned "hash-tags," the aesthetically pleasing visual content, and the timeless interface, while makes the thriving platform a leisure pastime, its tendency to be used as a business-platform and an inspiration hub, puts it amongst our top 8 logo inspiration websites.
Why Instagram?
Simple #-Based Searches
While every social media platform has its peculiarities, Instagram's "#" remains head and shoulders above the rest. The singular # allows its users to search for everything and anything on Instagram`s wide-ranging assortment of content.
Search for #logoinspiration, #logodesign, #logodesigninspiration, or anything related to logos, and you`ll find yourself inundated with thousands of logo designs from creatives springing from every corner of the globe.
Curated Logo Profiles
Very similar to other top-rated logo inspiration websites, Instagram hosts profiles a plethora of profiles that showcase some of the best creative logo designs the world has to witness.
Logoinspirations, in this regard, is the highest-grossing profile on Instagram. Followed by 577k users, the profile offers tutorials, paid-work, and most importantly, awe-inspiring logos from both veterans and novices.
Likewise, a great number of profiles also offer similar works; Logonew, Logoawesome, Logo.inspire are a few of the many that showcase notable works, that too without charging a penny!
Uptown Logo Design
Uptown Logo Design, while made it to the top 8 in the list of websites providing the most inspirational content for website designing, it goes without saying that it fortifies its spot in the logo designing list.
While a number of platforms such as Canva, Behance, and Instagram, do offer inspiration for both logos and website designs, which indisputably are brilliant resources for inspirational purposes, the huge number of people getting inspired from these designs leads to monotony across the design practices.
Uptown Logo Design, in this regard, proves to be an impeccable source of awe-inspiring works. To begin with, the website displays logo designs only done by professionals. Secondly, the myriad of business this undistinguished platform does for its clientele all over the globe, engenders a comprehensive portfolio that allows for inspiration based on a multitude of industries.
Why Uptown Logo Design?
Industry-Based Selection
Very similar to its website counterpart, Uptown Logo Design showcases professional logo designing done for a myriad of businesses in its portfolio. The portfolio is highly optimized to illustrate designs based on industries. From communications to travel and from sports to agriculture, Uptown Logo Design displays a wide variety of logo designs that, apart from showcasing their level of work, also prove to be a great source of inspiration for designers from all vocations and avocations.
LogoGala
An online gallery that offers inspiration to hundreds of logo designers daily, LogoGala is a renowned platform that connects high-caliber creatives from around the world that share information, tips and their works at a singular platform.
Why LogoGala?
Feature Logo
Despite being only a logo gallery, LogoGala remains distinctive from other platforms based on its "feature logo" undertaking– A remarkable activity allowing designers an insight into the detailed logo design process of any particular logo.
Designspiration
Designspiraiton is one of the finest platforms allowing access to inspirational work from artists emanating from all over the world.
With such a huge collection of designers gathered at a single platform, the availability of wide-ranging assortment of designs including custom logo designs, unique logo designs, corporate logo designs, and other such designs, make designspiration a one-stop website for professionals and newbies alike.
Why Designspiration?
Responsive Keyword Search Mechanism
Since the collection of logo designs is so remarkably extensive, the website offers a powerful keyword-suggestion feature allowing the designers to search exactly what they are looking for. Type in a specific color, shape, building, or any other element, and you`ll be presented with a commodious collection of logo designs matching your description.
Behance.net
Curated gallery, collection of creatives, and tons of logo designs for inspirational purposes, Behance is one of the most preferred options, for beginners and masters alike.
At the platform, you can view the most remarkable works, gain tremendous insight into the world of designing, and most importantly, find the right source of inspiration for your next project.
Why Behance?
Curation Leading To "Most Appreciated" Designs
Behance sports a community curation practice that leads thousands of viewers and designers to curate and evaluate different images and logos. Resultantly, the design that gets the most positive responses is assigned the title of "most appreciated work." These designs can be reviewed by newer and older members alike, and indisputably, can prove to be the very design that instills the touch of creativity designers seem to have in short supply.
Conclusion
With the top 16 inspiration websites, and months of inspirational designs at your disposal, you can browse through seamless content, review remarkable drawings, meet extraordinary individuals, and most importantly, get the inspiration that helps you design afresh. As in the words of the great Thomas Edison,
"Genius is one percent inspiration, ninety-nine percent perspiration."
So, no more designing procrastination from now on! Can`t work on your new design project? Give your stash a look; we are confident that from now on, you will achieve the inspiration that helps you realize the consummate genius, that too, in every single design.